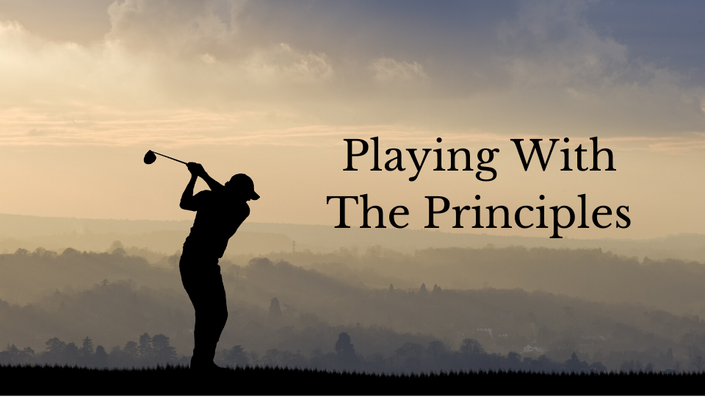 Playing With The Principles
Understand How A Golfer's Mind Really Works
Introduction
I can't quite believe I'm writing these words, but it's coming up to the fourth anniversary of the publication of my first book, The Three Principles of Outstanding Golf.
The book seems to be selling better than ever, with nearly 3000 copies distributed in more than a dozen different countries over the past four years.
It has appeared among the best selling golf books on Amazon UK and has dozens of Five Star reviews on Amazon sites around the world. The audio book version was released earlier this year and has found a new and enthusiastic audience.
If you are one of those readers, Or listeners) thank you for your support. And for your contribution to the ongoing recognition and growing awareness of the book. (If you haven't read the book yet, don't worry. A copy is included as part of this course.)

Golfers from all over the world have been kind enough to get in touch to say they found the ideas valuable, and that they have helped them with their enjoyment of the game.
Many have enquired more deeply into the true nature of their experience and discovered a place of fulfilment, happiness and peace as a result of their investigations, both on and off the golf course.

I have also had conversations with golfers who have felt something, or seen something change, but have not been able to translate the glimpse they have had into tangible improvement.
They have woken up to the possibility of a different way of playing, and a different way of being, but have slipped back into old habitual patterns of thinking and behaviour.
With that in mind, and being aware reading isn't the preferred medium for learning for some, I have reworked the main theme of the book as this Online Course.
Further insights that have arisen in the years since the book was published have been added.
Playing With The Principles
For the first time in the 150 year history of psychology, a set of principles that provide a simple explanation of the nature of the human experience has been uncovered.
Golfers can infer a number of implications from these principles, ideas that will change the way they learn, perform and enjoy their sport forever.
This course has been created for the thousands of golfers who are frustrated by the inconsistency in their game, discouraged by the difficulty of producing their best golf when they need it most, and disheartened by the struggle of improving their swing and learning new skills.
The curriculum consists of a series of video lessons. You can watch and listen at your leisure, then study the text in more depth should you choose to do so.
There are interviews with experienced teachers of these principles and exercises and resources for further exploration.
There are also recordings of conversations with readers of the book, who share their experiences and how their golf has changed.
The course will continue to grow and develop over the coming months and years. You will have access to all the updates and revisions. You will be able to see comments from other golfers, and to share your thoughts, experiences and insights.
The lessons will help you experience the peace of mind, the enjoyment, and the confidence that arises when you play with a deep understanding of where your thoughts and feelings about the game of golf are really coming from.
As your level of understanding improves, so does your enjoyment of the game.You become more consistent. You play your best golf more often.
Learning becomes less of a struggle, and you find that long standing problems in your technique don't bother you as much. Often they just drop away without struggling or grinding on the range
On completion of this course, you will understand how your experience of the game of golf is created. By this I mean that you will understand why you think what you think and feel what you feel about the game. Where your beliefs and perceptions come from.
You will see that the anxieties and worries which afflict many golfers are easily overcome when you know how your mind really works. I can assure you, as a result of this deeper understanding, your world and your golf will never be the same again.
Your Instructor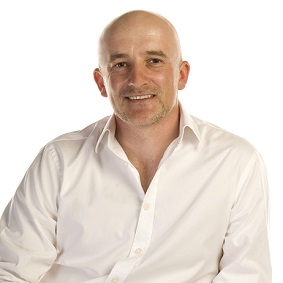 My name is Sam Jarman. I'm a professional golfer, coach, author and speaker.
I played full time tournament golf for ten years, before I realised that helping other golfers stop making the same mistakes I was making could be more enjoyable and profitable than continuing to make them myself.
My first book 'The Three Principles of Outstanding Golf' is a fifty thousand word summary of the most significant thing I have learned;
Keep it simple and think less, rather than more.
I live near Woburn Golf Club in Buckinghamshire, England with Daisy, a pretty but slightly unreliable cocker spaniel.

When I'm not playing golf or helping other golfers, I enjoy salmon fishing, skiing, reading, poker and Guinness.
Imagine...
Turning up on the first tee knowing you can play great golf regardless of how you feel or what you are thinking about.
Understanding 100 % why you think what you think, and feel how you feel on the golf course.
Making good decisions more often, and understanding why you occasionally make poor ones.
Trusting your common sense and gut instinct, rather than doubting and overthinking simple situations.
Not wasting time, money and effort. Practicing in a smart and efficient way, rather than grinding and aimlessly beating balls.
Not being 'that golfer' who has the latest new game changer driver or wonder training aid in their bag... Every single month.
Coming down the stretch knowing that feeling nervous cannot prevent you playing your best golf under pressure.
Being the golfer everyone respects as resilient, optimistic and tough to beat, whatever the circumstances.
What would this mean for you and your golf?
Once you understand a few simple principles, you can understand pretty much everything.
Because everything that happens in the human experience is an implication of those principles.
Everything I'm about to share with you in this program has been lived and experienced by golfers of all standards in many different situations.
These are the same principles and the same understanding I live and play by every day myself, and help the tour players and scratch amateur golfers I work with to understand and live by too.
The most important principles I have learned in a ten year playing career, and then ten years of coaching golfers of all levels are now available in this easy to follow Online Learning Program.


Frequently Asked Questions
When does the course start and finish?
The course starts now and will always be available to you. It is a completely self-paced online learning program - you decide when you start and when you finish.
How long do I have access to the course?
How does lifetime access sound? After enrolling, you have unlimited access to this course for as long as you want it - across any and all devices you own.
What if I am unhappy with the course?
I would never want you to be unhappy. If you are unsatisfied with your purchase, contact me in the first 30 days to help me understand what the problem is. If we can't work it out I will give you a full refund.
Will I be able to get one to one help after I join?
Yes, during the course you will be able to schedule conversations with me via Skype or in person. You will have the chance to schedule the first call as soon as you enrol to make sure you get off to a flying start.
What happens if and when the course is updated?
I hope to add new lesson, articles and resources as my understanding continues to get deeper, and as more people take the course and ask questions and make suggestions about what they would like to see more of in the curriculum. You will always have access to these improvements and updates with no extra charge.
Do I need to be a professional or single figure golfer to learn from these lessons?
No! The course is designed for golfers of all levels and all abilities. No matter what your handicap or how long you have been playing, understanding how your mind works will help you learn more efficiently and play your best golf more often.
These common questions will be addressed:
Why we get nervous on the first tee or coming down the last few holes.
What to do in those situations
How to learn quickly and efficiently without stressing or beating thousands of golf balls
Why trying to control your thoughts is a waste of time.
How we really make decisions
Are ideas such as 'momentum' and mental scar tissue' real, or just cliches trotted out by golf commentators and other frustrated, confused golfers.
The information and understanding in this online learning program is designed to be as easy to access and absorb as your favourite TV show or YouTube Channel.
Simply watch and listen to the lessons, or read them at your leisure and allow a new perspective to permeate your consciousness.
There's nothing to study, revise implement or grind on.
Anyone who tells you that you need to 'work' at the mental side of the game doesn't really know how your experience is created.
So if you're ready to invest in yourself and in your golf – ready to unlock your full potential and find out how good you can really be at this game– then I look forward to hearing from you soon.
Will It Be Worth It ?
Yes, this course is a significant amount of money.
But wise investments usually lead to substantial returns.
You might not have tried online coaching before. But let's have a quick look at the value you can expect from it and how it compares with your other golf expenses.
If golf is your main hobby, you probably spend a considerable amount of time and money on it.
Membership fees, green fees, golf equipment, swing lessons, range balls, clothing and footwear, maybe a golfing holiday every year?
None of this comes cheap. It might well add up to thousands rather than hundreds of pounds (or dollars).
Perhaps even more valuable is the precious leisure time you spend doing something which is supposed to be fun and enjoyable.
You will never have that time again.
Once it's gone it's gone.
If you aren't enjoying it, and you don't really understand why you are playing the game, then what's the point of laying out all that time, money and effort.
Set against the money you have spent, and may well spend over the next few years, £99 is actually pretty small beer - if you learn why you feel the way you do about the game.
If you learn how to start enjoying it again and who knows, maybe even start playing better, it might look like the bargain of the decade!
For less than the price of a new golf bag, you can get your inner game to a state where you know you can rely on it, and know you can compete and really enjoy your game for the few decades.
And that's before you take into consideration the benefits a deeper understanding of how your mind works will have on other areas in your life such as work, relationships and other sports or hobbies.
Remember, the course comes with a 30 day money back guarantee.
If after 30 days you have completed the course and you don't feel the benefits, I will happily refund 100% of the purchase price.
This understanding changed my life and my golf forever, and it has done for hundreds of other golfers.
I guarantee you will still be feeling the benefits in twenty years time, which is more than can be said for that new golf bag.
If you have any questions about the course, and how it will help your golf, please don't hesitate to get in touch.
Best regards,
Sam